When:
February 12, 2016 – May 29, 2016
all-day
2016-02-12T00:00:00-06:00
2016-05-30T00:00:00-05:00
Where:
i.d.e.a Museum
150 W Pepper Pl
Mesa, AZ 85201
USA

Cost:
$8/per person or FREE for members and those under age 1
February 12 – May 29, 2016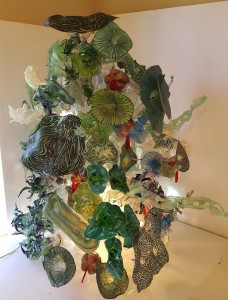 Celebrate the oceans by diving into our exhibit that features artwork by artists who bring together a mix of fascinating sea life and imaginative beauty to take you on a fanciful journey under the sea. You'll meet amazing creatures, explore the depths of the underwater world and discover your own connection to the ocean.
Oceans covers 71 percent of the Earth's surface and contains 97 percent of the planet's water. Without them, life on Earth would not be possible. They influence weather and climate, produce much of the oxygen we breathe, feed us and contain currents that connect humans around the globe. Something so essential and fascinating merits a closer look. Underwater FantaSea will provide an opportunity to learn about the importance of oceans, how they impact you impact you, as an individual, and how you can do your part to keep them healthy–even if you live hundreds of miles from them.
The exhibit includes approximately 60 thought-provoking artworks by 14 different artists working in a wide range of media such as painting, sculpture, textile arts, prints, photographs, and digital art. Featured Artists include Alyse C. Bernstein, Brad Vance, Brian Asdell, Corrine Geertsen, Jennifer Mercede, Johathan Marquardt, Judith Selby Lang and Richard Lang,  Margaret Craig, Merkel McLendon, Nicola Barsaleau, Quick Yeates, Renee Capozzola,, Michael Patrick O'Neill, Jason deCaires Taylor and  Scott McNeill.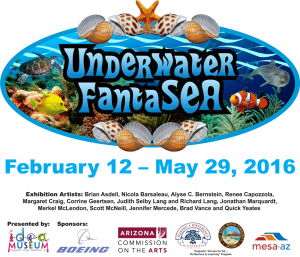 While exploring the artwork on display, you will be challenged to embark on a quest to hunt for mysterious sea creatures.  On that exciting voyage you'll learn about animals that live below the ocean's surface, the scientists that study oceans, as well as the ancient oceans that formed our landscape. You'll also:
Be inspired to make your own works of art!
Become a jellyfish!
Suit up and immerse yourself in make-believe ocean to swim with sea life!
See live underwater webcams in the Atlantic Ocean!
Hear marine mammals talk to each other!
Become a marine biologist!
So dive into your imagination and uncover the secrets of the world's largest habitat. This hands-on exhibition will be boatloads of fun.