When:
July 24, 2015 @ 7:00 pm – 11:45 pm
2015-07-24T19:00:00+02:00
2015-07-24T23:45:00+02:00
Where:
Artisti di Tierra Vivente Studio (Terra Vivente Art Studio)
82034 Guardia Sanframondi BN
Italy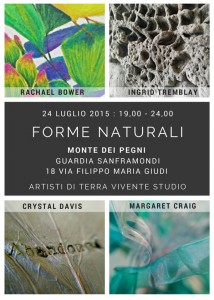 See you this Friday, July 24 between 19,00 and midnight at Monte dei Pegni!
The four artists are
Margaret Craig: sculptor and cutter from Texas, USA. She is doing a project that uses recycled plastic bottles and turns them into organic forms that are sensitive.
Ingrid Tremblay: a Franco-Canadian of Montreal, Ingrid works with natural forms. It's been scolpisce in tufo found at the local level and realisation of molds in plaster of local plant life.
Crystal Davis: a poet from Tasmania, Australia, crystal has brought his typewriter vintage with her typing on the leaves and other materials. She made the video of his investigations during the residence.
Rachael Bower: an artist from Texas, USA, inspired by the life of plants and birds in the guard, he worked with the drawing and painting on paper.
Original Italian:
Ci vediamo questa venerdi, 24 luglio tra 19,00 e mezzanotte al Monte dei Pegni!
Le quattro artiste sono
Margaret Craig: scultore e incisore dal Texas, Stati Uniti. Lei sta facendo un progetto che utilizza bottiglie di plastica riciclate e le trasforma in forme organiche delicate.
Ingrid Tremblay: un franco-canadese di Montreal, Ingrid lavora con forme naturali. E 'stata scolpisce in tufo trovato a livello locale e realizzazione di stampi in gesso di vita vegetale locale.
Cristallo Davis: un poeta da Tasmania, Australia, Crystal ha portato la sua macchina da scrivere d'epoca con lei a digitare sulle foglie e altro materiale. Lei ha fatto i video delle sue indagini durante la residenza.
Rachael Bower: un artista da Texas, Stati Uniti, ispirato alla vita delle piante e di uccelli in Guardia, ha lavorato con il disegno e la pittura su carta.