When:
November 14, 2015 @ 6:00 pm – 8:00 pm
2015-11-14T18:00:00-06:00
2015-11-14T20:00:00-06:00
Where:
Flatbed Press and Gallery
2830 E Martin Luther King Jr Blvd
Austin, TX 78702
USA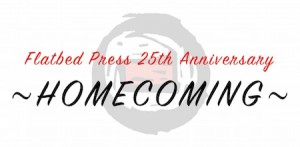 For twenty-five years Flatbed has been fortunate to have the assistance of many creative individuals to help in our publication of etchings, lithographs, relief prints, screen prints and monotypes, with artists from all over the world. We are more than a business; we are a community of like-minded artists, gallerists, and printmakers who believe in the power of the fine art print. Whether our printers, assistants, or interns were here for a short while or stayed the course for years, we are ever grateful for their dedication to the work here and are proud to have had a part in their lives. Many have remained active in the print world; some have become curators and teachers and others have created art related businesses or pursued other art practices. It is a pleasure to show selected works by these individuals, many of whom now live far from Austin. The work includes printmaking, installation, sculpture, ceramics, and painting. Join us in welcoming them and celebrating their work at a reception and opening Saturday, November 14 from 6-8pm.
Artists include: Kristen Bartel, Cordelia Blanchard, Teresa Bond, Byron Brauchli, Noah Breuer, Katherine Brinberry, Robert Brown, Adrienne Butler, Heather Butler, Lauren Cardenas, Belinda Casey, Veronica Ceci, Lee Chesney, Margaret Craig, Margie Crisp, Jeffrey Dell, Tom Drucker, Catherine Dudley, Emily Eaton, Lilian Garcia-Roig, Alex Giffen, Terri Goodhue, Teresa Gomez-Martorell, Annalise Gratovich, Nancy Gray, Carol Hayman, Tim High, Hallie Rae Ward, Whitney Hill, Alfonso Huerta Garcia, Laura Jennings, Brian Johnson, Amelia Jones, Gabel Karsten, Heidi Landau, Pat Masterson, Tracy Mayrello, Deborah McLouth, Joshua Orsburn, Heather Parrish, Elvia Perrin, Serena Perrone, Carolyn Porter, Pecos Pryor, Christopher Reno, Clifton Riley, Thomas Rogers, Stan Scott, Margie Simpson, Gingi Statman, James Turner, Tina Weitz, Cassie White, Cynthia Young.